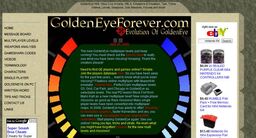 GoldenEye Forever is a defunct GoldenEye-themed website, run by GE MASTER. It is mainly dedicated to multiplayer and miscellaneous features of GoldenEye, including, but not limited to: strategies, stage and weapon overviews, GameShark codes, and gameplay videos. A section of the site is dedicated to playing GoldenEye online using emulators.
The site is also home to the Shooters Forever forums, where many GoldenEye fans and modders alike gather to discuss the game and their projects.
Ad blocker interference detected!
Wikia is a free-to-use site that makes money from advertising. We have a modified experience for viewers using ad blockers

Wikia is not accessible if you've made further modifications. Remove the custom ad blocker rule(s) and the page will load as expected.