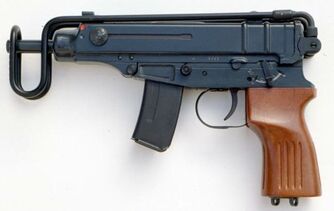 The Kl-033 Mk2 (Skorpion vz. 61) is a Czechoslovakian submachine gun classified under the Special category. It was designed by Miroslav Rybar and first produced by Ceska zbrojovka Uhersky Brod in 1961.
The Kl-033 Mk2 is GoldenEye Reloaded's Klobb and is very much the same as the original, but it is modified to have attachments. They are the Reflex Sight, the laser, the silencer, and the compensator. All are great for diffrent reasons. It is put in the Special category because it is identified as a machine pistol/SMG hybrid.
The name is an obvious refrence to the original Klobb. 0 is o and the 3 is B. Not to mention it is identified as Mark 2.