Cradle is the only mission with no known changes or leftover pads in its setup file.
Miscellaneous
Edit
The top, inaccessible walkways of the three pylons are partially clipped. The developers may have intended to place snipers up there, but due to game limitations they never would have been able to hit Bond.
Setup File Leftovers
Edit
Two taunts never used by Trevelyan:
Trevelyan: Closing time, James. Last call.
Trevelyan: You haven't won yet!
Multiplayer
Edit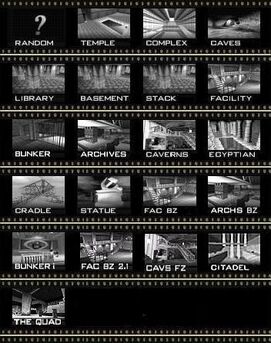 PC Cheats for Multiplayer Cradle
Edit
CRADLE
"Cradle" .off
8102B11D 0092
8102B11F 0093
8002B127 0029
8102B123 0008
802ADC8D 0052
802ADC8E 0041
802ADC8F 0044
802ADC90 004C
802ADC91 0045[1]
References
Edit
Ad blocker interference detected!
Wikia is a free-to-use site that makes money from advertising. We have a modified experience for viewers using ad blockers

Wikia is not accessible if you've made further modifications. Remove the custom ad blocker rule(s) and the page will load as expected.